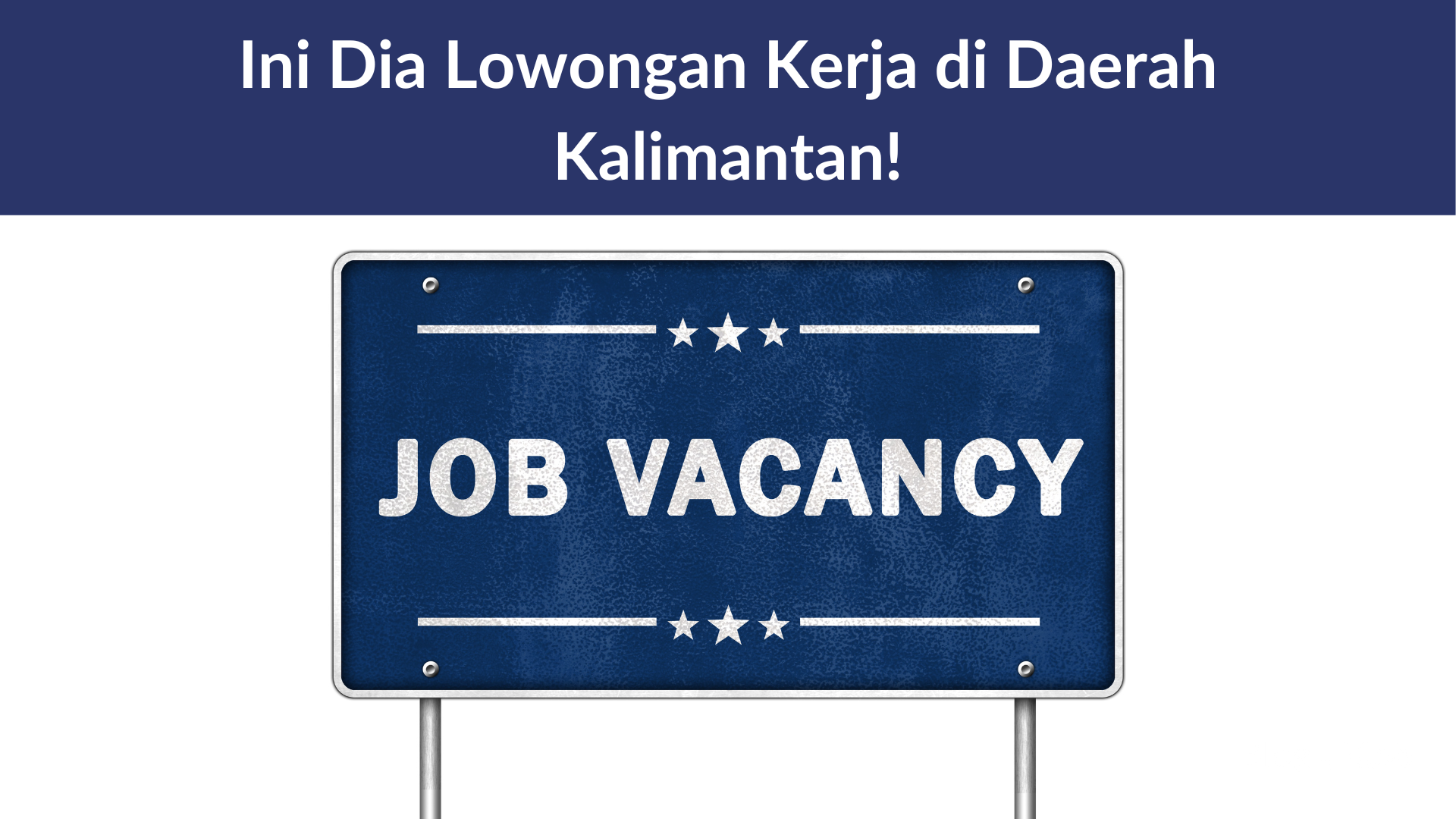 Ini Dia Lowongan Kerja di Daerah Kalimantan!
Halo Klobbers! Kabar baik untuk kamu yang bertempat tinggal di wilayah Kalimantan! Saat ini, beberapa perusahaan sedang membuka lowongan pekerjaan dengan penempatan di wilayah Kalimantan lho! Yuk, simak lowongan kerja berikut!
Admin Finance Banjarmasin
PT Surya Madistrindo
Deskripsi Pekerjaan
Your Main task is to Maintain sales & accounts receivable administration processes in the area data input process by the system & administrative activities related to sales and receivables in the area.
Peran dan Tanggung Jawab
Carry out the process of verifying realization documents accurately

Distributing documents of sales

Input program realization results into the system appropriately

Take physical opname for document realization
Kualifikasi
Male or Female with Maximum age 30 years old

Education Min. S1 majoring in Accounting (preferred)/ all major

Fresh Graduated / Experience with GPA min 2.75

Have good personality & communication skills

Able to Operate Ms Excel
Link pendaftaran: Admin Finance Banjarmasin
Administration Officer – South Kalimantan
Indonesia Stock Exchange
Deskripsi Pekerjaan
You will be responsible for providing various administration duties (petty cash management, document archiving, mailing & expedition, etc.) and assisting projects and activities to increase public literation & inclusion in Capital Market. This position is also responsible for managing daily office operations and public visits.
Kualifikasi
General Requirements:
Graduate from reputable university/ college with GPA min. 3.00

Good communication skill (in Indonesia & English), both verbal and writing

Computer literate (Microsoft Office)

Having knowledge about Capital Market will be an advantage

Live with our core values Teamwork, Integrity, Professionalism, and Service Excellence
Specific Requirements
Bachelor's degree in Economics (will be preferred)

Good administrative skills, detail-oriented, assertive, communicative

Experienced in using creative design software, such as Photoshop, Corel, Adobe Illustrator, etc.

Experienced in the administration field will be an advantage

Knowing the Capital Market knowledge will be preferable

Willing to be located in Banjarmasin, South Kalimantan
Link pendaftaran: Administration Officer