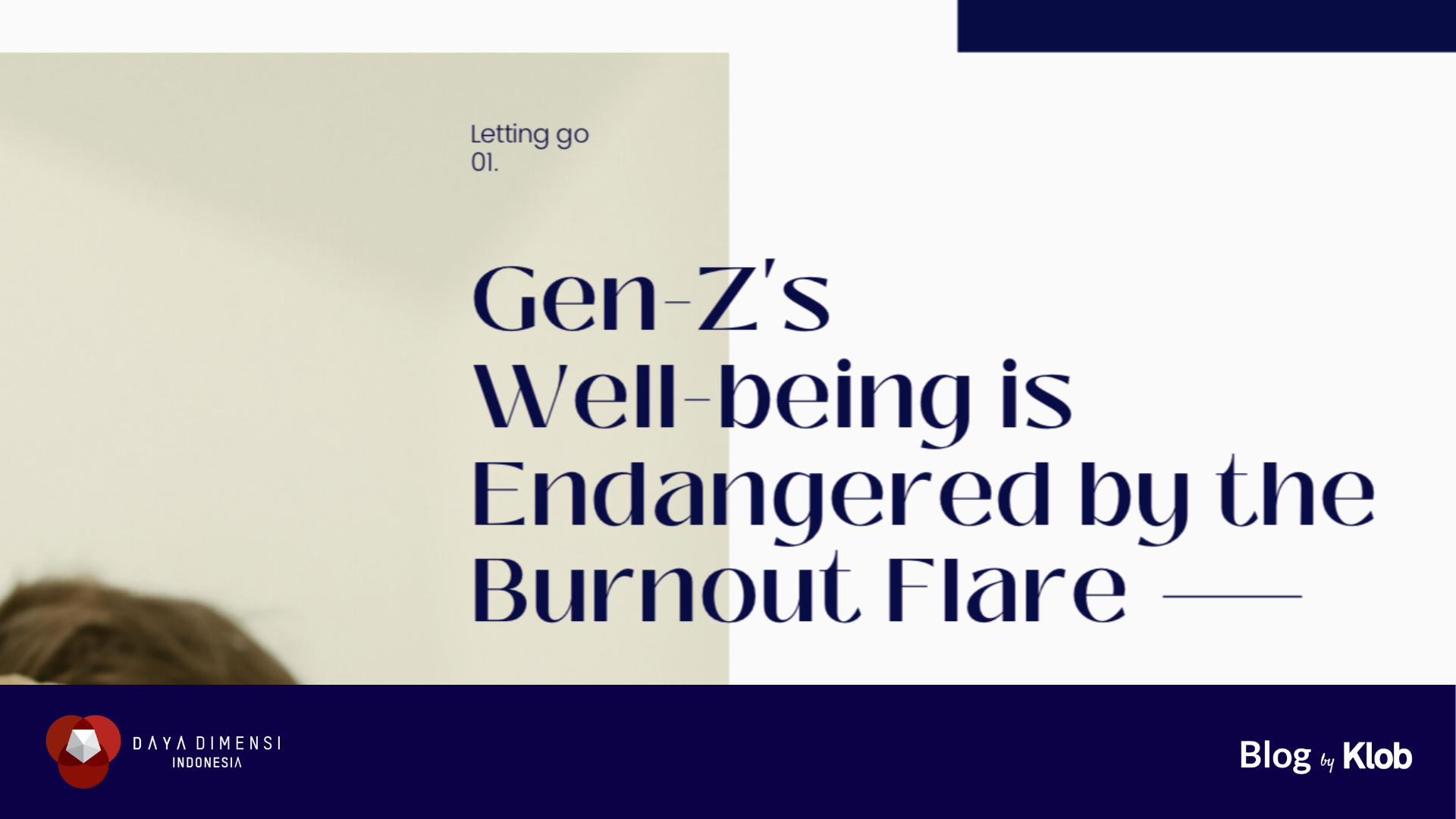 Gen-Z's Well-being is Endangered by the Burnout Flare

As we move forward to the end of 2021, we highlight a concern within the workforce that is the burnout issue. The surging case is exacerbated by Gen Z's desire for a stable job. Furthermore, the world seems to be revolving very fast as we keep on being exposed to career- themed webinars or CV-making tips on social media platforms. The majority of the contents promise the ultimate guidance to ace your job application, yet there is still no guarantee that anyone can succeed in one shot.
Gen Z's daily schedule is full with course classes and back-to-back job interviews. The competitiveness is high due to only 2% of applicants will get interviewed for one job vacancy. This generation seems to be awfully obsessed with job hunting process that some people archive their rejection letters. Based on Deloitte's survey, 50% of Gen Z's source of stress comes from the uncertainty about their job or career prospects followed by personal financial issues.
The job market itself is seeing a great shift after The Great Resignation. This leads to an increasing number of job vacancies, yet with too advanced requirements for the fresh graduates. How do you expect someone who has just recently graduated to have a 3-year work experience? This leads the fresh graduates to apply for internships instead as they believe that the chance for full-time employment is higher.
Despite the existing hurdles and forthcoming challenges, Gen Z is still very optimistic about its career goals and determined to aim for big, top companies. Gen Z's dream is straightforward that is to set foot in a stable job with decent income directly after graduating from college. However, the dream does not come without any cost, it triggers high anxiety among the fresh graduates as they need to work hard to achieve their dream jobs. Moreover, this generation proceeds from being a college student to a first jobber from home or if not, bedroom due to the ongoing COVID-19 pandemic. Hence, with most offices apply work from home policy, these first jobbers are working within flexible business hours, a situation that needs time to adjust.
In addition, based on a study by Bloomberg, on average employees worked 3 more extra hours during the pandemic. Sadly, this becomes a new reality because those employees feel guilty for not finishing their tasks or afraid of underperforming, so they spend longer time on each task. However, this unhealthy assumption in order to be perceived productive leads to overworking. There are perhaps two main reasons why overworking becomes a habit: they have no other things to do while staying at home or they want to secure their career, so they work to show their determination to improve their performance. Ironically, a research by Multatuli Projects shows that the majority of 393 university students experienced mental health issues throughout 2020.
Gen Z is a part of the future demographic bonus in 2045 as the generation will be at its productive years. However, how can we ensure that Generation Z's competencies and well-being have not been thin-stretched before reaching 2045? This has become the responsibility and challenges for the Gen Z's current employers to develop the talents from this generation. These employers need to shift their focus from creating a fun workplace complemented with bean bags, game rooms, and free-flow snacks to preparing practical tools and effective strategies to combat their employees' burnout. The pandemic has made working, at least five days a week, at a physical office obsolete.
Before assuming the behavior of Gen Z, employers need to understand the characteristics of Gen Z's ideal career types. A researcher tried to categorize Gen Z's preference and values in the workplace into three groups: Social Investors, Chill Worker Bees, and Go Getters. First, Social Investors value development and learning in the workplace to support their personal success. Second, Chill Worker Bees prioritize an employer who provides safety and security, both physically and emotionally, in the workplace. Last, Go Getters prefer a workplace that drives them to innovate and bring social impact. Moreover, these three groups put high value on clear and open communication with their supervisors; hence, receiving regular feedbacks that are crucial for their developments (Leslie et al, 2021). (NHB)
ESSENTIAL STRATEGY
Without a comprehensive understanding of Gen Z's motivation to work, the overall employees' productivity might decrease due to high stress level. The invisible culprit of mental health issues has a very tangible impact, which the company has to pay at high price. Research from Gallup found that employees are more likely to take more sick days, have low confidence about their performance, or quit the job two times more willingly. To avoid the dreadful cost of the employees' well-being, employers need to adjust how they manage the company and the employees' workload. Webinars about managing burnout are only a temporary fix, we need to improve the system moving forward.
Here is the essential strategy worth implementing:
1. Team who works together, thrives together
Even long before the work-from-home situation, collaboration is necessary to achieve your team or company's desired goals. It is even more crucial as people are now working from many different places. Providing your employees, the tools to collaborate effectively and efficiently will increase their trust and make every task manageable.
2. Workload visibility
Set a clear and systematic task for a project, so your employees know what and how to do it. A clear insight into the project will help your employees to believe that they have control over their works; hence, improving their performance.
3. Fair and competitive compensation
Giving your employee a fair compensation is actually more cost- effective compared to recruiting new employees. It would be best to provide them with health insurance as well as other benefits that will support their personal growth. Well-paid employee is most likely to have lower stress level as she or he is able to have healthier personal finance and a sense of security from the company.
4. Make mental health a priority
Encourage your employees to live healthily. You can support them by providing resources for them to manage their stress, such as counseling with a professional, flexible working environment, or regular check-ins to make sure that they do not overwork.
5. Engage in an open communication
Fear and anxiety of being judged or underperforming might be caused by lack of clear communication. Giving regular feedbacks and engaging in discussion will allow your team to have better understanding on how they perform from different perspectives and clarify expectations.
"While Generation-Z appreciate technology, are growth-minded, and value purpose, they're much hungrier for human connection and job security."

– Ashley Stahl